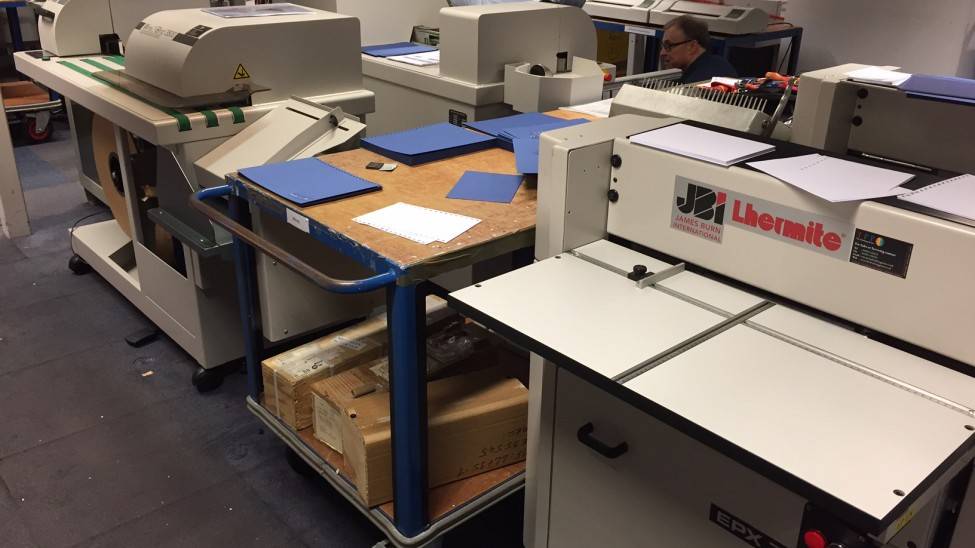 Europe's Largest Bank Upgrades Binding Machines
Posted on - 7th March 2017
A multi-national banking organisation which has headquarters in Central Europe and operates in over 70 countries with in excess of 100,000 employees, has upgraded their in house binding facilities with the help of The Finishing Point. The London based section incorporates a dedicated print room and bindery for the production of internal and external documentation. Prior to approaching us, the company specialised in fully digital output with both narrow and wide format capabilities.

The Issue
The companies current binding machines had been on site for over 15 years and were therefore struggling to cope with current and rising demands
The machines also utilised an antiquated method of book production which resulted in very short turnaround times
High quality covers were also difficult to punch on standard machinery
The Challenge
Our challenge was to enhance the companies in-house capability to increase flexibility and to also reduce the need for outsourcing. We also needed to ensure the companies ability to automate wire binding applications whilst also having a backup contingency. An immediate same day support structure was also vital.
The Solution
The size and scale of this task coupled with the exact requirements created long and interesting conversations with our machinery partners. The need to increase productivity and shorten turnaround times pointed to automated punching and binding machines, but the nature of the document covers restricted the capability of automation to a point which made it not viable for this application. In order to resolve the issue we needed to look at expanding the machinery portfolio rather than automating, as a result we recommended and supplied:
Two James Burn International EPX700 Punch (380 mm Tool A4 & A5)
Kept the customers preferred oblong 2:1 punch pattern
Enabled the WOB3500 binders to run using 2:1 Spools on all sizes of wire
The Outcome
Heavy duty punches could easily cope with the covers and specialist binding materials utilised
Workflow was instantly streamlined in to dedicated areas of the bindery
More work was kept in-house
Higher quality documents were produced with a cleaner punch
The company achieved faster production of wire-o bound documents
We were left with another happy customer!
Customer Comments
"TFP came recommended to us by one of our print engine advisory team having worked with Chris and his team at several other sites of similar nature around London. Chris arranged everything from the demonstration site, which was probably the best equipped commercial printer we have ever seen, to the seamless installation, training and ongoing maintenance support. Cannot fault the level of knowledge, courtesy of the team or overall product of TFP"
Contact Us Today for a Free Demonstration & Expert Advice
If you're looking to upgrade your binding equipment but you are unsure as to which model would best suit your requirements, please do not hesitate to contact us today! As the UK's leading printing equipment specialists, we have a wealth of experience and expertise and can provide you with impartial advice to ensure that you get the best solution for your needs. We also offer free demonstrations at our showroom and can talk you through the different binding machines that we have available.