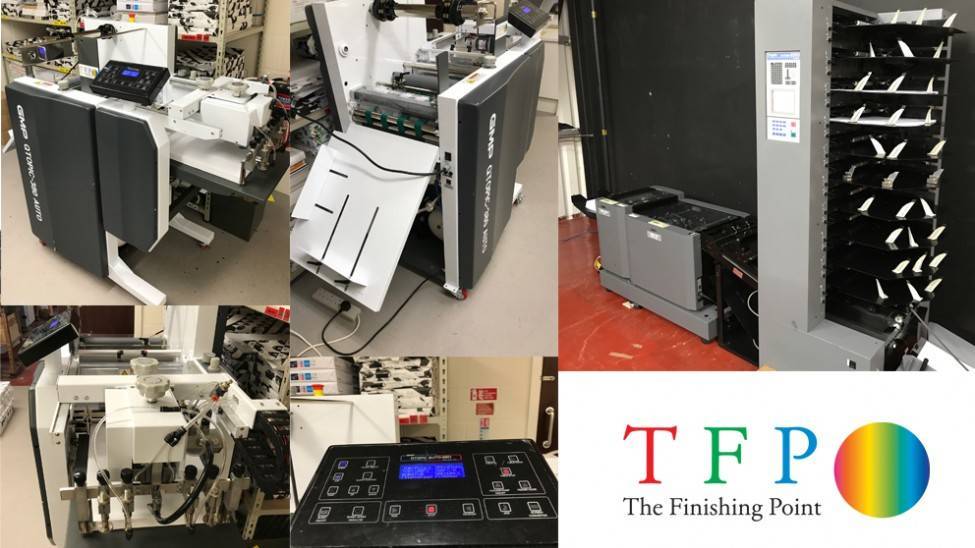 UK's First GMP Q-Topic Auto Digital Laminating Machine Installed in Yorkshire
Posted on - 21st June 2017
The Company
Established in 1889, incorporated as a Limited Company in 1917 and based within a stones throw of Leeds, the business specialised in the printing of stationery and numbered bingo tickets. In 1996 they moved to their current premises and entered the commercial print market offering a broader range of print services. Three years later the company merged with a successful graphic design business adding complementary studio services to their product portfolio and in 2008 a management buy-out was completed.
The Issue
As the company expanded, and customer needs continued to grow, the business did face some issues, including:
Having to outsource traditional foil effects (this consisted of a 50 mile round trip to drop and pick up, and was therefore not time effective)
Extra costs involved with making special foil dies for short run work, again, not cost effective
Digitally printed output having to be finished in main print room, mixed with Litho output
Print volumes reducing and more complex targeted digital print jobs required
Current lithographic finishing solutions not suited to short run digital print
Digital finished process was none existent, causing bottlenecks
Very high end clients started to demand high quality booklets & special finishes in very low bespoke volumes
The Challenge
Ultimately, our challenge was to enhance the in-house digital finishing capability of the business whilst at the same time, adding value to the business so that it can grow. Above all, we needed to help the business to streamline its digital finishing processes to create greater efficiency and greater client satisfaction. We also needed to reduce set-up time and wastage through automation with the goal of containing digital requirements within the digital area.
The Solution
The Finishing Point specialise in digital print finishing equipment and can often expand a digital setup being used within a commercial print environment. This particular setup consisted of high end traditional Litho finishing equipment in the form of a B2 High Speed Laminator and a Muller Martini Prima Booklet Making system, both excellent pieces of equipment but not suited to short run digital work. Our solution was two fold, to offer a dedicated foiling and laminating machine for the Digital Print team to utilise as well as a dedicated quick setup booklet maker capable of producing short runs quickly with instant changeovers. The effects of the installation have been instant as there are now two dedicated areas of print that can run independently, freeing up valuable equipment time for the Litho production whilst adding value and extra abilities to the Digital production, a win win!
GMP's full sleeking and foiling accessory range
2nd User Duplo System 2000 Booklet Maker (Consists of DC 10/60 Collator, DBM120 and DBM120 Trimmer)
The Outcome
Fully automated digital laminating
Fully automated digital sleeking & foiling effects
Defined Litho and digital print areas
Digital short run booklet production
New services developed & greater control through less outsourcing
Significant added value through special foil effects
One very happy customer!
Customer Comments
"I met Chris & his wife at the Print Show last year at the NEC. I was immediately impressed with their knowledge and understanding of the new markets Digital print is opening. Although having a laminating machine already onsite meant looking to add another of similar design and capability was not an option. To be fair Chris picked up on my point but added that the latest solutions are so much more than a just a laminator. After several conversations and visits we went over to the TFP showroom in Warrington to view the standard Q-Topic machine they have on show. I was not even shown the laminating aspect it was all about the foiling which was really impressive and extremely simple to produce, you could see how much time and cost this device would save against outsourcing and specialist die making. I was sold on the spot but wanted a more automated system, the Q-Topic Auto was the answer which utilises virtually the same high capacity feeder as our current B2 laminator with 300 mm Pile Feed and fully automated, operator free control.
The TFP team from conception to installation have been great and kept us updated at every stage, even when we had to delay installation due to unforseen circumstances at the last minute there was no drama or complaints. I would recommend TFP and I will certainly be heading back to them for my next purchase to further expand our digital print. We have worked alongside TFP for near 8 years and cannot fault their knowledge or levels of engineering support, they have always been here when needed, even when that was out of hours! The new machinery is now all operational and making a huge difference to our daily production, more importantly we have happy operators producing good quality print."
Upgrade your printing facilities today
To find out how we can help your business to expand its printing services and efficiency, please do not hesitate to contact us, a member of the team will be more than happy to help and can answer any questions that you may have. We also offer free demonstrations at our showroom so that you can really get to grips with our machines.